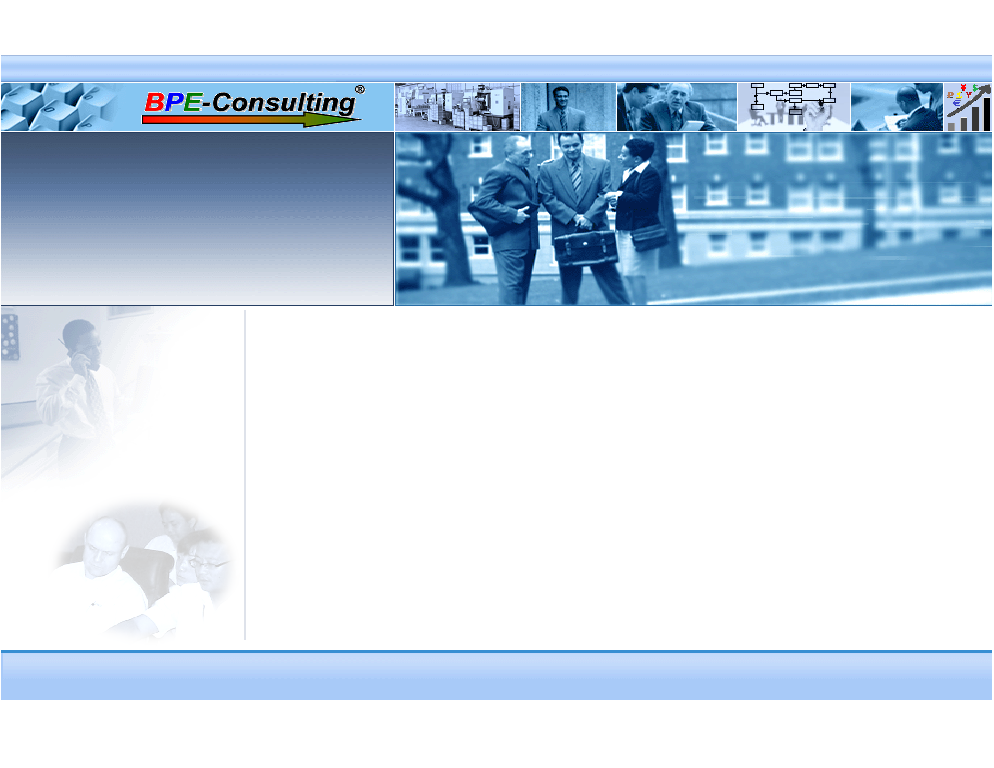 BPE Consulting, LLC. Office# 502-233-4520

Copyright © 2018 by BPE Consulting, LLC | All rights reserved | Last Revised: 07/03/2018
Resources at BPE Consulting LLC

At Business Process Excellence Consulting,

we are working hands-on with companies to improve
processes, efficiencies, quality & customer
satisfaction, reduce cost, & drive performance
improvements via business process optimization and
through Lean & Six-Sigma.

BPE Consulting, LLC. Office# 502-233-4520

Copyright © 2018 by BPE Consulting, LLC | All rights reserved | Last Revised: 07/05/2018

Bio Summary: Lean Six-Sigma Master Black Belt with >30 yrs. of international work experience (incl.
Europe, China, Taiwan, & Thailand) in Continuous & Process Improvement, Multi-Plant Quality Mgmt.,
Supplier Quality & Development, Design, Supply Chain & Project Mgmt. Diverse work experience incl.
Auto, Truck & Trailer Mfg. Industry, Heavy Equipment, Wind Industry, & Sports Equipment Industry, and
process experience among others in Machining, Fabrication, Plastics, Electronics, SMT, & Assembly.

Experience Level: Our support consultants have in general >20 years of industry experience and an
extensive work background ranging from hands-on auditing, quality, supplier quality, lean six-sigma,
and implementing mfg. process & business process improvements, and bring in industry experience
from Truck & Equipment Mfg., Automotive, Chemical, Medical Device, Nuclear, Aerospace, and others.

We support our clients through highly qualified experts with multi-industry & diverse functional backgrounds,
such as:

Furthermore, BPE-Consulting is working in partnership with other highly experienced consultants as additional
resources are needed, such as: